UnRealAR puts a world of knowledge at your fingertips: past, present and future.
There are several ways to find what you are looking for, all located in the top menu: GEO-EXPLORER; URP EXPLORER; and DEEP DIVE into UNREAL WORLD (through the GEO-EXPLORER drop-down) where you can word-search for specific information.
There is also our fascinating online magazine section, TRAVELOG, which is full of travel articles that are also geo-located worldwide.
As a traveller, you can find out things through UnReal World that have never been available to you before – and that's before, during and after your trip.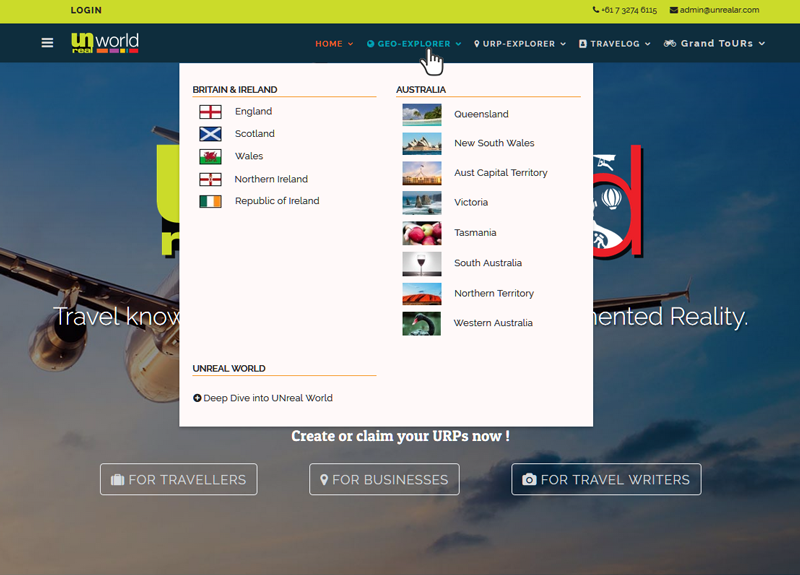 Use the GEO-Explorer menu option to find a wide variety of URPs in a location of your choice. Select a country (either the UK or Australia at this stage), then a region of that country.  The next screen will show you a wide variety of special interest URPs in that region, gathered in clusters. You can narrow it down to smaller regions as you progress.
The search initially presents 100 URPs at a time. Those 100 URPs are also presented below the map and you can change the way you view this 'catalogue' of URPs. If you want a greater number URPs presented on the map and the catalogue below, click on the page selector and choose 150, 200 or 250 to be displayed.
Go to pages 2, then 3, then 4 etc to see more URPs.
Look on the left of the map to see the variety of special interest URP categories that are covered in your search. You can click on those to focus your search down to you areas of interest.
Zoom in on the map at any time to open up the URP clusters and see what's there. Click on any of the URP symbols to open up an explanation of the URP. Then click More info to open up the URPs themselves and delve into the detail or contact the URP owner.
Choose how many URPs you want to display per page using this area. Note that however many you select will be all that appear on the map and in the catalogue below the map. We suggest you use higher numbers to get as many URPs on the map as possible.
There are many ways you can more easily organize your GEO-EXPLORER searches and how they are presented. Here are some clues.
DEEP DIVE INTO THE UNREAL WORLD
Here through the Geo-Explorer menu drop-down, you can also do what we call a 'Deep Dive'. Bottom left of the drop-down is the link to a Word Search capability: Deep Dive into the UnReal World.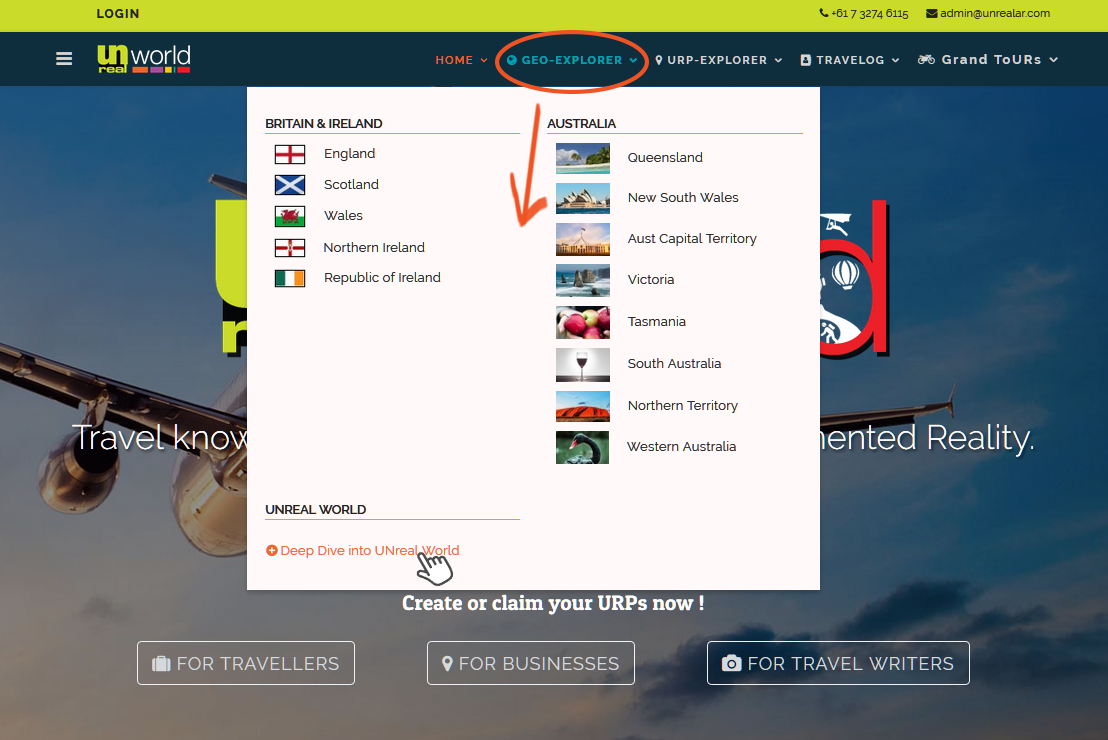 From here you can narrow your search down by country and region, then through Word Search in the field located in the top left-hand corner of the tab screen.
Narrow your Word Search down by Other Selection Options on the left-hand column.
Narrow your search down by the number of results per page, above the map.
Navigate back through other searches by changing these search parameters. You may be astonished by what you find! It's an UNreal Search System.
After selecting Deep Dive into the UnReal World, another page comes up for you to narrow your geo-search down by Countries in the UK or States in Australia. Make your choice and your next page presents the opportunity to Word Search the URPs in the region you have selected.
The Deep Dive word search box comes up in the top left-hand corner of the page.
In the top left-hand corner of the screen, you can refine your search with an appropriate word (in this case, museum), or even the name of a URP if you know it (such as London Science Museum), and sort the results as well by refining the regions (you can select one of the six tourism regions of England, below the word search box, if you like).
Mix and match Other Selection Options to Deep Dive into more refined geo-located knowledge areas.

Remember, you may find what you are looking for more easily by increasing or reducing the number of URPs you display per page, too.
Use the UnReal URP-Explorer to seek out special interest URP types by region.

This is really handy for travellers in pre-planning a trip, creating itineraries, or even booking direct with accommodation providers, F&B outlets or seeking local tour operators and special attractions to enjoy.
For now, we have broken down this URP search function into Accommodation, Sightseeing/Attractions, and Food & Drink for both Australia and Britain & Ireland.
Below that is a selection for both countries of special interest searches to seek out, for now, Famous People, Golf, Sound Trails (special audio tours), Street Art and Wildlife.
You will be surprised at just how much special interest knowledge is at your fingertips through UnReal World.
URP-EXPLORER is a quick way to find particular types of special interest URPs. These are the most common quick searches travellers conduct on UnReal World.
Here is a first page example of URP-EXPLORER seeking Sightseeing & Attractions in the UK and Ireland.  Note than only 100 are displayed of 471 URPs and you can easily adjust the Regions, URPoint Types and page display numbers to speed up your special interest search.
HOW TO FIND UNREAL INFORMATION
The UnReal platform is made up of hundreds of thousands of what are effectively mini-website information points. We call them Un-Real-Points (URPs). These URPs are created, controlled and updated by UnRealAR's writers, journalists, orbiteers, volunteers and our partners.
[Yeah, we know … sounds a bit like URLs … because they are kinda like URLs]  
Each of our URPs has its own quick response code.
[QR Code, like this one for UnRealAR's Australian headquarters, which you scan using your mobile device].
These QR Codes can be found on brochures, business cards or even stickers.  Scan the code with your mobile phone or tablet and it will take your straight to that URP – or even to a set of URPs.
[We often use a QR Code to take you to a particular location to see what is around you … for example, our UnRealAR HQ as a Movie Location, which featured in the Dwayne 'The Rock' Johnson movie San Andreas … Use the QR code, which takes you to a specific place, then click back from that place using the button Continue Searching This Location and the map will open up to reveal other URPs of all types within a radius of 1 kilometre]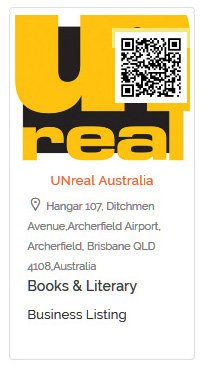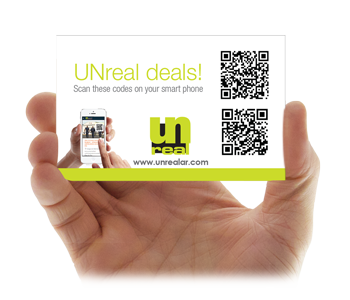 Scan the QR code (which can be found on screen, in brochures, on shop windows, at reception desks, and on business cards) to go direct to the URP. In this case, it's us! This is our movie location URP for the UnRealAR headquarters at Archerfield Airport in Brisbane. Our offices were used as the location for the Los Angeles Fire Department Air Wing in the movie 'San Andreas' starring Dwayne 'The Rock' Johnson, filmed in 2015.
Here are the details of how the UnRealAR HQ became a 'San Andreas' movie set for a couple of weeks in 2015. Interesting, eh?
Here are some images in our Gallery showing the fine detail of how the movie makers substituted the Los Angeles Fire Department Air Wing for the UnRealAR 'hangar' headquarters in Australia. Sadly, we were not allowed to keep it that way when filming finished …
LOOK BELOW FOR UNREAL SERENDIPITY
Another easy way to see what interesting URPs are around is to simply scroll down below the map to see An UnReal catalogue of URPs within your chosen region. It's a serendipitous way to discover items of interest that you may not ordinarily search for.
Sometimes that kind of discovery can really change your day for the better. Here is a sample around our own headquarters at Archerfield Airport, Australia.
A search around Archerfield Airport, where UnRealAR is based, reveals some fascinating geo-located knowledge aspects. We have many historical and Indigenous stories to tell, all around us.
And, finally, try out the Grand ToURs menu option, which is a growing collection of great walking, cycling, driving and sailing tours, with routes marked out for you on maps.  Some of these tours are in conjunction with tour operators and publishers, while others are prepared for you by enthusiasts and travel writers.

UnReal World is developing into Planet Earth's most informative travel planning platform. Whether your trip is international, national, regional or even just down to your local shops.
A fast-growing and fascinating area of UnReal World is our touring section, Grand ToURs, with an increasing mix of walking, cycling, motoring and boating tours. We are working with tourism authorities, publishers and travel writers to include many more this year. Stay posted.
Now that you have seen how to use UnRealAR, you may have questions about what we are and how it operates. Here is a brief backgrounder.
UnRealAR is our company name and UnReal World is the travel-related first generation of the world's first geo-located knowledge platform.
What is a geo-located knowledge platform? Well, it's UnReal! We were looking for a way to describe want we are and what we do and 'geo-located knowledge platform' was the closest we could get! Like everything else we do, we'll keep working on it.
UnReal World assembles knowledge – past-present and future – and geo-locates it. We do this by utilizing our own journalists, writers and editors – and we open up our capability to partners, communities and commercial subscribers. On the UNreal platform, real peo0ple own and control the knowledge they contribute – and that knowledge can be historical, scientific, cultural, artistic, special interest, events, public safety, and community service-related information.
A walking club may create URPs to guide routes, sporting clubs may publish fixtures and timeslots, musical performers may – and we already chart movie and literary locations, as well as street art, and present those URPs to the individual artists to manage for themselves.
While we function as a global digital technology platform, we actually see ourselves as a global publisher of geo-located knowledge and information. That knowledge is maintained – and often created – by local people and enthusiasts. UnRealAR is a new way to communicate with local and global publics at the same time.
Subscribe to UnReal World or talk to us about a partnering on geo-located knowledge projects. E-mail
admin@unrealar.com
and we will get in touch first providing more information by e-mail, then in person by one of our regional Orbiteers (Australia and UK only at present).
Here is an example of how you might look for Movie Locations in London, using the GEO-EXPLORER menu. Notice how the filters have been applied to the region (London) and the URP Types (Movie Locations).
UnReal World is not like any other tech platform you have encountered before.
First, it is not a booking platform. We do not take bookings – we put you in touch directly with the people and businesses offering services you like.
Second, we do not offer 'lowest prices' – although there's a great chance you will get a great price when you are dealing direct with a business that appeals to you. What better way to travel than to genuinely get to know the people you are visiting and who are assisting your travels?
Third, we do not collect data on you – at all. Hence we do not shop your information around to third parties, like so many other platforms do these days.